I 125 anni di National Geographic
Dettagli

Scritto da

Luca Armellin

Categoria principale: News
Inspiring people to care about the planet. Questo è il motto che, sia dalla sua costituzione, ha adottato la National Geographic Society. Quest'anno celebra il traguardo dei 125 anni dalla sua fondazione, anni durante i quali ha finanziato moltissime spedizioni negli angoli più remoti del pianeta, portando alla luce antiche civiltà, territori sconosciuti, innumerevoli nuove specie di ogni genere.
Il National Geographic festeggia i suoi 125 anni di storia, manco a dirlo, con un concorso fotografico, invitando chiunque a fotografare ciò che ritiene degno all'interno dell'ormai sua celebre cornice gialla. Frame what matters dice il motto del concorso.
Ogni fotografo di natura e reportage che si rispetti aspira a lavorare per il National, che da sempre ha portato all'attenzione del mondo fotografie di altissimo livello, la gran maggioranza realizzate in luoghi sperduti ed in condizioni ambientali difficili.
Nella pagina del sito dedicata al concorso, http://www.nationalgeographic.com/125/, ci sono moltissime iniziative di ogni genere per celebrare la ricorrenza. Da fotografi dilettanti non possiamo altro che dire grazie al National Geographic per essere continua fonte di immagini stupende, ricordandoci che osservare gli scatti dei migliori fotografi di natura del mondo, è il primo passo per far crescere la nostra fotografia.
Assegnato il Pulitzer 2013 per la fotografia
Dettagli

Scritto da

Dario Armellin

Categoria principale: News
E' stato assegnato al fotografo freelance Afp Javier Manzano per la sua fotografia scattata il 18 ottobre 2012 ad Aleppo in Siria; la fotografia ritrae due guerriglieri armati circondati da raggi di luce provenienti da fori di proiettile sulla serranda metallica che li separa dalla strada.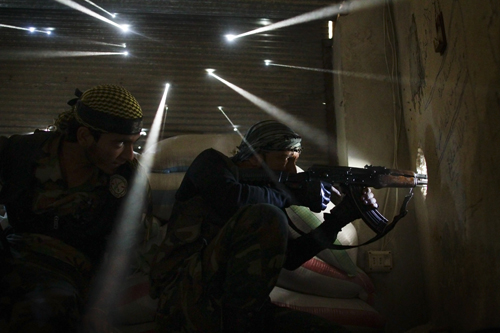 La polvere delle bombe aleggia nell'aria e rende molto visibili i raggi di luce che circondano i due soldati intenti a sorvegliare il loro "foro" pronti per sparare.
Nuova Zelanda
Dettagli

Scritto da

Dario Armellin

Categoria principale: News
Siamo finalmente riusciti ad aggiornare la gallery della Nuova Zelanda, unisce i nostri 2 viaggi agli antipodi, buona visione!
Nuovi aforismi
Dettagli

Scritto da

Luca Armellin

Categoria principale: News
Le citazioni e gli aforismi dei grandi maestri della fotografia offrono sempre ottimi spunti di riflessione. Leggerle con mente aperta offre una molteplicità di nuove occasioni per riflettere sul mondo della fotografia da molte prospettive differenti. Le piccole frasi dei "mostri sacri" costituiscono sovente delle vere e proprie lezioni intere concentrate in un paio di righe; hanno spesso più contenuto di intere pagine scritte. Sempre alla ricerca di spunti per nuove riflessioni, la nostra raccolta di aforismi ha raggiunto nel tempo un notevole volume di citazioni da diversi autori, noti e meno noti, ma tutti capaci di cogliere nel segno con poche parole.
Buon anno nuovo
Dettagli

Scritto da

Luca Armellin

Categoria principale: News
C&B Imaging e fotoappunti.com augurano a tutti un felice anno nuovo! Gli autori Luca e Dario si augurano che questo anno 2013 appena iniziato sia per tutti quelli che ci seguono ricco di soddisfazioni fotografiche e non solo! Buon 2013 a tutti!